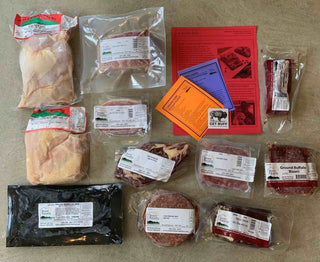 CSA Meat Subscription Box
Welcome to our Monthly Meat CSA program!
CSA stands for Community Supported Agriculture. CSA's offer local residents access to high-quality, locally grown fresh products (and/or meat) from local or regional farmers. A "share" is purchased by "members" who visit the farm or local pick up to pick up their "share" for their season. The items are bagged or boxed up ready for each pickup or delivery.
Choose Your Share Size
September 2023
CSA Pick Up Times and Locations:

Downloadable calendar with pick up dates for 2023.
Yankee Farmer's Market, Warner NH
Pickup: Starting Monday, 9/18
Open Mon-Thu 10-5, Saturday 9-4

Home Delivery (Renewal Compost)
Tuesday 9/19 - Concord, Bow, New London
Wednesday 9/20 - Pembroke, Auburn, Candia, Hooksett & North End of Manchester
Thursday 9/21- Raymond, Londonderry, Derry, Windham & South End of Manchester
Friday 9/22 - Central & East Manchester
Monday 9/25 - Weare, Bedford, Amherst, Merrimack, Goffstown, New Boston, Mont Vernon, Milford, & West Side of Manchester
Shipping
Monday and Tuesday 9/18 and 9/19. Your CSA will ship via UPS.
Get Fit NH, Concord NH
Pickup: Tuesday, 9/19, 9:00 am - close.
Location is in the kitchen in the rear of the building by the locker room and cubbies.
Capital City Sports and Fitness, Concord NH
Pickup: Tuesday, 9/19, 9:00 am - close.
Location is behind the front desk.
Beechwood Apartments, Sunapee NH
Beechwood, 91 Edgemont Road (route 103B)
Pickup: Wednesday 9/20 after 1:00 pm.
Location is in the breezeway of the apartment building.
Storm's Fitness, 442 Pine Street, Contoocook NH
Pickup: Wednesday, 9/20 after 3:00 pm.
Location is in the gym. Ask the front desk person.
Dynamic Natural Athletes, WRJ VT
Pickup: Wednesday, 9/20, 2-4 pm.
Location is on the front porch, or right inside the front door.
Hypertherm
(Hypertherm Associates Only)
71 Heater Rd, Lebanon NH
Pickup: Wednesday, 9/20, parking lot car, 9am-5pm.
For Hypertherm employees only:kitchen freezer, 9am-5pm.
Johnson Golden Harvest, Hooksett NH
Pickup: Thursday, 9/21 after 2:30 pm (closes at 5pm).
Location is in the building.
Pitcher Mountain Farm, Stoddard NH
Pickup: Saturday, 9/24 after 2:30 pm.
Location is in the farmhouse. Go directly in the front door to the main house.
------------------------------------------------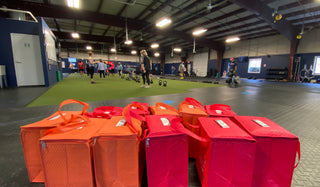 Meat CSA Process
Choose which meats and farm-fresh foods you would like, choose the size for your needs and if you would like delivery or pick up. Each month you will receive one delivery. Shares are billed on the 10th of each month and deliveries are generally on the 3rd full week of each month.

Downloadable calendar with pick up dates for 2023.

CSA Pickup Options and Locations
Currently, we many different pickup locations with more being added each month. Choose to pick up in Concord, Hooksett, Lebanon, Warner, White River Junction (VT) or Sunapee.

We also offer UPS shipping direct to your home or office. UPS charges and a container fee will be added on at checkout.

New to the program is home delivery. Towns included are Amherst, Auburn, Bedford, Candia, Concord, Derry, Goffstown, Hooksett, Londonderry, Manchester, Merrimack, New London, Pembroke, Raymond, Windham. There is an $15 additional fee for this service.

Meat CSA Cost
Single: $149 /month
Double: $259 /month
Family: $499 /month

Meat CSA Contents
Your choice of Buffalo, Beef, Pork, Chicken, Turkey, Venison, Elk, Lamb and Wild Alaskan Salmon. You will receive all the typical cuts you see on our website. As a rule, you will not receive anything obscure like organs or bones, unless you specifically ask for them. Also, we will always attempt to curate your cuts to be "seasonal", so for example, more stews and roasts in the winter, and grillable type items in the summer. This is not hard and fast, as all items are available all the time, and is always dependent on stock.

Changes and updates
Any changes to your CSA must can sent over to us with this quick and easy form. Our online system where you placed your order does not allow for the customer to make edits to the order options once the order has been placed. If you have updates to your CSA please use the form each month you have changes. If there are no changes we will use your last known preferences. Changes must be submitted by the 1st of each month.
Meat CSA Benefits
1. You're supporting your local community – it's no secret that many of our local meat producers are being pushed out by larger scale, commercial farmers. The best way to show your support is to put your money where your mouth is…literally.
2. It encourages more quality, healthy meat consumption – You kind of have no excuse to not eat quality meat when it is showing up on your doorstep each week. We love making smart choices with our food quality around here, but if it's not in the house we're less likely to eat healthy. We make it easy, so no more excuses now!
3. Stuck in a meat rut? You get to experiment with different types of meat – It's easy to get stuck in a meat rut and eat the same things over and over. Having someone pick things for you (or at least the option of having them pick for you) encourages you to try things you normally wouldn't. Without our CSA many customers would never have discovered how much they love shaved steak or osso bucco!
4. It saves you money – With every dollar you spend, earns you BUFF BUCKS that goes right back into your account through our Buffalo Buyers Club to use for future purchases, saving you money.
5. Convenience- We have several pickup locations as well as shipping available to make it as easy and convenient as possible.
-----------------------------------------------------------------------------------------------------------
Testimonials
Awesome! Beautiful store full of local products! Beautiful and Friendly Buffalo right outside, it was amazing. Everyone working there was as friendly as could be, including the farm dog Eli! An hour drive for that is nothing, we will be back soon! -H. Lundgren
We have been buying buffalo from Yankee Farmer's Market since the beginning. They delivered to our home in Manchester nh. So glad they are still in business because we are back to buffalo again after some years and love everything we purchase. - D. Steady
Highly recommend their meat. It's as healthy as you can get. Definitely taste the difference. Sign up for their CSA, you won't be sorry! - P. Coughlin
Working with Yankee Farmer's Market has been SUCH a wonderful experience. They are so easy to work with, quick to respond and treat our clients with respect. They have been flexible in changing orders, they are punctual with their drop off, the meat is packaged professionally and most importantly, their product is clean, cost-effective and delicious. Their onboarding process is simple and takes almost no time. Ordering is easy for the clients. I cannot say enough about how easy and beneficial this has been for Get Fit NH. - Meagan Sbat, Owner of GetFit NH
As the Co-founder of Dynamic Natural Athletes LLC, I have coached and trained many individuals ranging from professional and competitive athletes to very novice individuals starting a health and fitness program. No matter how experienced you are and how long you spend in the gym, if you don't have the right fuel to feed your body, you may be lucky and get barely satisfactory results in the 1st 4 weeks. "Why" my clients/ gym members ask, "am I stuck?" My response always: You can own a Lamborghini, but if you put sand in it, it will not go anywhere. As a professional athlete, I speak from personal experience; 85% of your success to a fitter, stronger, and healthier you is good clean nutrition- ESPECIALLY good healthy protein. I became a client of Yankee Farmer's Market in 2010. I was instantly hooked. Since then, I have referred every single client of mine, as well as many friends and family members to get their healthy protein at the Yankee Farmer's Market. When you see the results, the choice is very clear. So if you are on the fence about Yankee Farmer's Market, JUMP. You will never look back and you may never look at grocery store meat ever again. - Dr. Laleh Talebian, Ph.D., Owner of Dynamic Natural Athletes